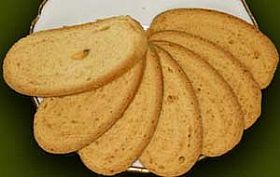 Traditional desserts in Venice, Chioggia and Treviso, the first "baicoli" have been invented about two centuries ago by the local confectioners and bakers. Delicate and tasty biscuits, much appreciated even by the numerous foreign tourists, coming in Venice every year.
This dry delicious desserts were particularly suitable to be easily stored during the Venetian merchants' long trips afloat. Their name derives from the shape: quite similar to some lagoon's basses, so-called "Baicoli". They look like ovoidal, thin and long-shaped pieces of toasted bread. The Baicoli are just perfect if served with zabaglione, 'mascarpone' cream or soaked into hot chocolate.
1st dough
300 gr baking flour
25 gr brewer's yeast
water as needed
2nd dough
700 gr baking flour
200 gr sugar
200 gr butter
7 gr salt
Vanilla
water and tepid milk as needed
Preparation
First dough: dissolve the yeast into half cup of warm water. Make a mound of flour on your work surface, scoop a well into the middle of it. Knead the mixture, adding further warm water if necessary, until you obtain a fairly firm, smooth dough (figure 10-15 minutes of kneading). Let it rise with a clean muslin on it.
Now you can make the second dough, putting the flour on your work surface, scoop out another well in the middle; pour the sugar into the hole, add the salt and softened butter, and work all together till you have a firm dough, adding as much water as needed.
Once the first dough has doubled its size, just add it to the second and knead the dough vigorously, moistening now and then with some tepid milk, until you get a smooth and compact dough. Place it into a large mixing bowl, and let it rise until it doubles. When the dough is ready, take it out the bowl and divide it into 6/7 small pieces and roll each one like French rolls. Place them on prepared baking sheet (previously greased). Cover with a clothe and let them rise for about 1 hour and a half.
Then bake into pre-heated oven to 180 degrees C for about 10 minutes, taking care that the tops are not coloured or crusty. Remove from oven and leave it cool for about 48 hours. At this point cut the rolls into very thin slices, as you would for a salami.
Pre-heat oven to 180-200 degrees C, place the biscuits onto the baking sheet and let them toast on both sides for a couple of minutes.
Ingredients
Been there? Done that? Share your experience and tips!
Haven't visited yet? Have questions about Baicoli? Ask them here!