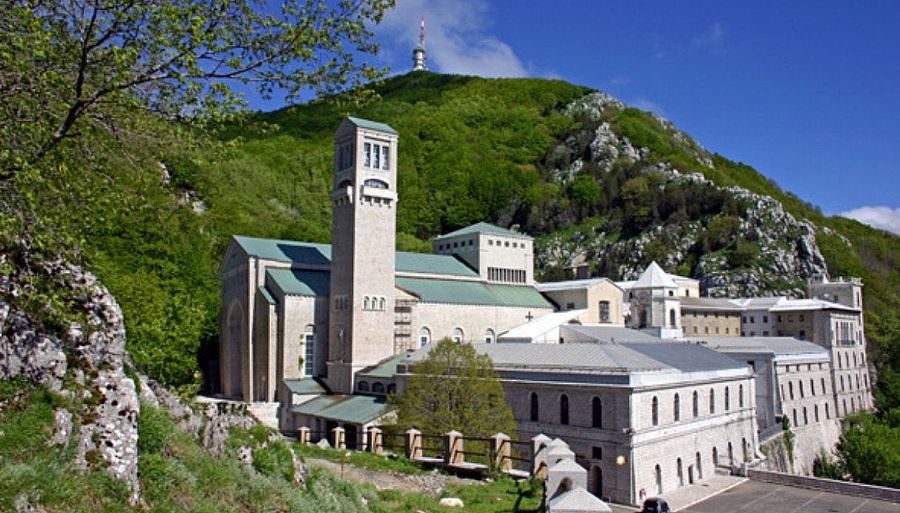 A beautiful sacred site near Avellino imparts silence and a sense of peace. San Guglielmo (St. William) arrived on this mount looking for a place to pray and sensed God's presence here. Others arrived to follow his example, and a monastery was established. The church is dedicated to the Virgin Mary (Monte virgine) and is now one of the most visited monasteries in southern Italy. Pilgrims and tourists come for the intriguing abbey, the stunning views, the interesting history and the sense of peacefulness found here.
The Madonna in the painting that is venerated is referred to locally as Mamma Schiavone, a term of endearment as mother; the schiavone refers to her being darker-skinned, humble, thereby relatable to the local population. The monastery, known as the Santuario Abbazia Montevergine, has long been a place of refuge,but never more so than during WWII. Many fled Avellino and sought shelter here during the long, destructive days of Allied bombings on the city below the mountain. They were given a safe haven within the courtyards. Another interesting story of refuge - the Shroud of Turin was brought here for safe keeping during the war. It resided here, encased within the altar of the monks' choir where they sang the vespers and held prayers.In a top secret operation, the king, Vittorio Emanuele, in 1939 with Hitler's troops flashing through Europe, decided to move the holy image from the royal chapel to the Quirinale in Rome. He appealed to the Vatican for safekeeping of the relic, but was told that even the Vatican wouldn't be safe for such an important item, given Hitler's interest in these pieces. A highly secretive transfer took the shroud to the abbey of Montevergine and hid it under the altar in the dark of night on September 25. (A year later, almost to the day, Mussolini allied with Germany and Japan, forming the Axis Alliance, on September 27, 1940.) It was all written down and signed by the king's monsignor and the monastery's director, including the packaging: the shroud was rolled up and placed in a silver box with brocade which was then put in a wooden box, locked and sealed with lead, and placed under the altar, closed up inside of it. The directives also gave permission to the abbot to move it to an underground chamber at the site if he deemed necessary. On October 31, 1946, it was returned to Turin.
The best way to reach Montevergine is by funicular, located in the lovely town of Mercogliano, just west of Avellino. Find hours on the abbey's website.
Been there? Done that? Share your experience and tips!
Haven't visited yet? Have questions about Abbey of Montevergine? Ask them here!
Address in Avellino:
Viale San Modestino, Mercogliano.
Ph. (+39) 082 572 924.