Vulci Archeological and Nature Park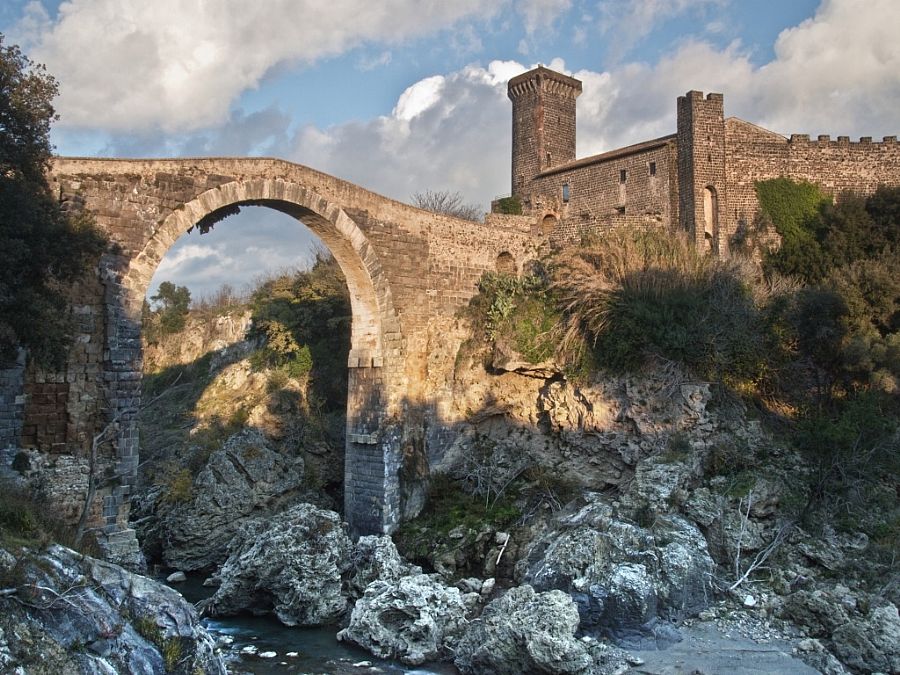 The Etruscans settled in this area of Lazio and southern Tuscany, and you can see elements of their ancient culture at the spectacular park, Vulci. Located near Montalto di Castro, in the Viterbo province, the Etruscan town was one of the largest city'states of Etruria. Visiting Vulci is like stepping back in time to the ancient empires of Etruscans and Romans.
Vulci had a period of splendor with sanctuaries and extra-urban roads in addition to the trademark Etruscan necropoli. You can see the traces of these ancient roads and remains along the paths of the archeological area. The Castello dell'Abbadia sits above the Fiora River and hosts the National Archeological Museum, a repository of the artifacts found at the site. The nearby Ponte del Diavolo is an arched bridge dating to the Roman period that was in use right up until the 1960s! It's a graceful bridge, 20 meters over the Fiora River.
But the highlight of the visit is the necropolis, about 1 kilometer from the castle, the celebrated "city of the dead" with tombs from 2,700 years ago, incredibly intact and ornate architecturally. You have to see it to believe it!
Archeology and Nature
The park is more than archeological site, though; it is also a nature park, so enjoy the tranquility and birds and paths that it offers, along with the fun activities. The park organizes a range of outings and events that take you beyond "sight" to "experience". For example, you can do a kayak trip or tube paddle along the river through the park, or rent a mountain bike or e-bike and pedal your way around the park. There are sunset visits, and summer events that include music festivals and dances, too.
For events and activities, see the Vulci website.
Been there? Done that? Share your experience and tips!
Haven't visited yet? Have questions about Vulci Archeological and Nature Park? Ask them here!
Address in Montalto di Castro:
Parco di Vulci, via Volta Buia 4.
Ph. (+39) 076 687 9729.