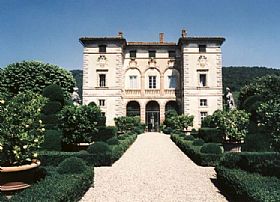 Villa Cetinale is one of Siena's grand historic residences, located in the beautiful countryside outside the city. The formal gardens of the villa are named among the "most beautiful parks in Italy" and were a must-see stop on the cultured travelers' Grand Tour itinerary in the 1700s and 1800s.
The baroque villa was built by Flavio Chigi, a powerful and wealthy cardinal, part of one of Siena's most important families. Flavio was the nephew of Pope Alexander VII who adorned Rome with many beautiful buildings as well as the colonnade of St. Peter's Basilica. The Sienese family became influential in Rome, commissioning artists like Raphael, Peruzzi and Bernini.
For the Villa Cetinale, Flavio Chigi commissioned Carlo Fontana, one of the most popular architects of the time, who was a student and assistant of Bernini. It remains one of Siena's most beautiful country estates, and one of the few Baroque villas. It has a U-shaped structure with a monumental staircase of two flanks.
But it is the garden that has long attracted visitors, considered one of the loveliest in the area. There are lawns and flower beds, a bust-lined avenue and statues by Giuseppe Mazzuoli adorning the grounds. Paths and woods with decorated votive chapels are alluring, and the citrus house is a pretty addition. WIsteria, roses, iris, lilies and cypress are cultivated, but this being Italy, there are vines and olive groves along with poppies and wildflowers for variety. This beautiful park has been an attraction in the area for a couple of centuries.
A little trivia: the Siena Palio was raced here seven times in the 1600s due to riots in the city preventing the event from taking place there. Stone-carved symbols of Siena's contradas can be found in the park.
The Gardens of Villa Cetinale are open from 9:30 AM til 12:30 PM daily, or other times by appointment.
Been there? Done that? Share your experience and tips!
Haven't visited yet? Have questions about Villa Cetinale? Ask them here!
Address in Siena:
Strada di Cetinale.
Ph. (39) 057 731 1147.