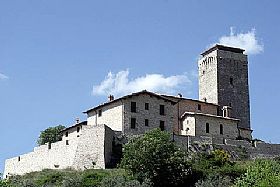 In the heart of Umbria's green hills, Valtopina is a hamlet in a splendid natural setting. It rests below majestic Monte Subasio, in the valley of the Topino River, which gives the town its name. The mountain was the favored spot of St. Francis and his followers, who walked pathways to seek solitude for reflection and meditation, as Assisi lies on the other side of the Mt. Subasio. The town was under Assisi's authority in the 1200s and 1300s then passed to the lords of Foligno.
Despite its small size - only 1400 residents- there are a few restaurants, pizzerias, coffee bars, a grocer and a butcher among its shops. The Museo del Ricamo e del Tessile highlights embroidery and textiles, a cottage industry here in centuries past. Valtopina is noted for its annual festival dedicated to the truffle, the area's prized product that are abundant in the woods here. Another yearly event is the extravaganza known as the Palio di San Bernardino, a medieval throw-back that pits the once-important castles against each other, re-enacting their military training that was once so important for the defense of the zone. Slingshot, tug-of-war, relay races, archery and sharp-shooting are some of the games of skill, each team competing for the treasured Palio, a hand-painted banner. The highlight of the Palio is the opulently costumed parade (and of course the medieval banquets where you can taste Old World flavors!). The Palio of San Bernardino is held the first week of July.
The surrounding area is beautiful with forested hills and valleys, with castles and hamlets scattered about them. Foligno and Spello are just to the south, while Perugia and Assisi are to the west. Spoleto and Gubbio are also in reach of Valtopina.
Been there? Done that? Share your experience and tips!
Haven't visited yet? Have questions about Valtopina? Ask them here!
Explore nearby towns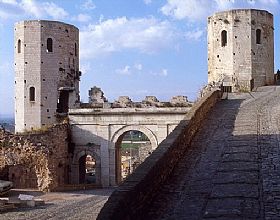 Spello is a jewel box that preserves a considerable artistic and cultural heritage.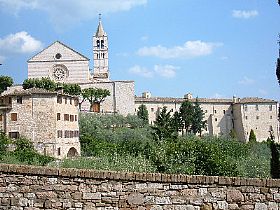 Assisi is renowned for its beautiful setting and its famous hometown boy who became a symbol for peace and virtue, and who also became a saint, St Francis.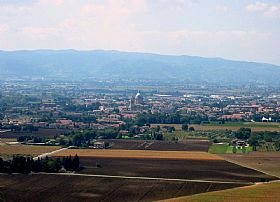 Below the hill town of Assisi on the Valle Umbra plain is the town of Santa Maria degli Angeli, named for the basilica built here.