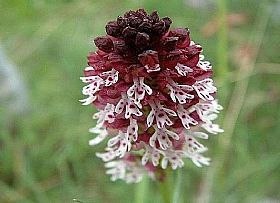 The Valley of Orchids (Valle delle Orchidee) is located in the heart of the Cilento and Vallo di Diano National Park, in the town of Sassano. In the 47-square-kilometers "open structure" and along a distance of 13 km, you can observe varied species of wild orchids: 184 entities of wild orchids (68 species, 57 subspecies, 35 varieties, 24 hybrids). A huge natural heritage, then, especially if you consider that in the protected area of Cilento and Vallo di Diano are 254 species of wild orchids, and there are 319 species across the whole Europe and the Mediterranean Basin.
What is a wild orchid? These plants thrive in the presence of open, uncultivated, stony and arid environments, scree grassy areas where the presence of pollinating insects is even more significant, due to the strong sunshine and low vegetation. The variety of shapes and colors and their relative rarity, make the Orchidacea a species of flowers for which, perhaps more than any other, ignite the passions of botanical and nature lovers. Orchids are one of the most recent and complex developmental stages among the flowered plants, and it transpires from some of the unique strategies that they adopt in order to thrive and reproduce. They usually bloom between April and May, but there are varieties that keep flowering until July. Some of them do not synthesize chlorophyll, but absorb nutrients directly from decaying organic matter.
Every year in May, the town of Sassano in the province of Salerno, more precisely in the Park of Cilento and Vallo di Diano, celebrates the wild orchid with beautiful folkloric appointments, music and stands exhibiting some local products.
Been there? Done that? Share your experience and tips!
Haven't visited yet? Have questions about Valley of Orchids ? Ask them here!