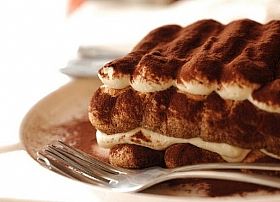 Tiramisù is the quintessential Italian dessert. The creamy, coffee-flavored cake can be found not only all over Italy but all over the world. While different regions battle for the bragging rights to the famous dolce, the most colorful story about its origins comes from Torino. The legend says that during the unification of Italy a famous pastry chef prepared a special, potent dessert for Prime Minister Cavour, something that would sustain him in his difficult work of unifying the Italian peninsula. The coffee and liqueur mixture helped perk him up. Tiramisu' literally means, "pick me up".
Treviso argues they had it first, while Siena lays claim to its origins, too. The origins may never be known but the longstanding appeal and popularity of tiramisu can't be disputed.
Tips
The cake is better if prepared several hours before serving. .
Some people prefer a stronger flavor and add whiskey instead of marsala to the coffee.
You can use dark chocolate flakes instead of cocoa powder to decorate the top.
Some omit the egg and use whipped cream. It can be added to the mascarpone cream or be used as a topping.
For a nice presentation you can prepare it in individual cups rather than in a single dish.
INGREDIENTS
A package of Ladyfingers
500 grams mascarpone (about 2 cups)
2 eggs, separated
150 grams sugar (about 1/2 cup)
1/2 cup of marsala
freshly brewed espresso-type coffee, cooled
cocoa powder or chocolate shavings
Preparation
In a bowl, beat the mascarpone with the sugar and egg yolks. In a separate bowl, whip the egg whites to a peak and add to mascarpone mixture. In a shallow dish, combine the coffee and the marsale (or brandy, rum or whisky, if you prefer). Have a rectangular pan ready. Dip each ladyfinger into the coffee and line the bottom of the pan with a single layer of them. Spoon half the mascarpone mixture over top, spreading evenly. Sprinkle lightly with cocoa (best to use a sieve for an even dusting). Add another layer of coffee-soaked ladyfingers, placing them in the opposite direction to the previous one. Spread the remaining mascarpone over it and sprinkle with cocoa. Cover and refrigerate at least 6 hours to allow the ladyfingers to soften and the flavors to blend.
Been there? Done that? Share your experience and tips!
Haven't visited yet? Have questions about Tiramisu'? Ask them here!