The Luminaria di San Domenico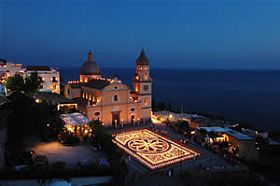 Suggestive ancient tradition of the rich historical and cultural Praiano's patrimony, Luminaria di St Domenico is celebrated every year from the 1st to the 4th of August. This huge religious festivity takes place into the convent of St Maria a Castro, where St Domenico is been venerated from 1606, when the Dominican friars of Sanità came from Naples. The festivity is preceded by a triduum, during which thousands on wax candles adorn terraces, balconies, windows, alleys and the typical cupolas, creating stunning effects. Everybody takes part into the splendid decoration of Piazza St Gennaro... so impressive!
Years ago every citizen used to keep branches of kindling wood, making bundles to be burnt al-fresco, in order to celebrate the saint and then cans, glass tins, clothes, oil and rancid lard to make the torches.
The deep meaning of this event comes from a special dream made by St Domenico's mother: before giving birth to her only child, she dreamt a dog keeping a torch in the mouth to burn the World, meaning that the unborn child would have brought the Word of God all over the world.
Been there? Done that? Share your experience and tips!
Haven't visited yet? Have questions about The Luminaria di San Domenico? Ask them here!