The Charterhouse of Padula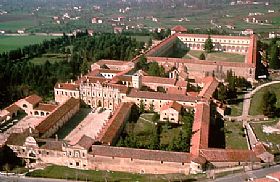 The Charterhouse of St Lorenzo, in Padula, with its 250,000 square meters of gardens and yards and with over 320 rooms and halls is the largest Chartusian monastery in Europe. This outstanding monument was built in 1306, and is characterized by the refined and articulated architectural style. Tommaso Sanseverino, count of Marsico, built this stunning example of Italian art and donated a large part of his properties to the monastery.
The monks' real estate got bigger and bigger thanks to a wise policy of investments: this high capital along with the deeply sensitive artistic inclination of the monks, allowed the frequent restoration and enlargement works that made the Certosa what it now is.
During the past five centuries the original monastery has preserved the same structural scheme, even if every single part's been continuously enriched with new architectural parties, statues, gardens, works of art and craftsmanship, an immense library. The cloistered life did not limit the constant cultural update of the monks, specially thanks to the considerable mobility of the "directors".
Notable traces of the fourteenth-century building are in the architectural plant of the church (unique nave with cross vault and pointed arches). The magnificent ligneous choir of the lay brothers (monks who didn't make vow of seclusion) is dated back to the XVI century. The courtyard of the guestrooms and the façade on the external court, even if revised in 1700, have kept a late-manneristic style. At the end of 1700 Gaetano Barba,disciple of Vanvitelli, made the stunning elliptical great staircase... an authentic work of art!
In 1807 the monastery got plundered from the Napoleonic troops and closed the first phase of the life of the Certosa. In 1818, with many difficulties, come monks got back to repopulate it and made some restoration work, even though in 1866, for want of the recently constituted State, the Carthusian monastery underwent an umpteenth spoliation and finally abandoned. This incredibly beautiful monument's been totally restored for years (from the second postwar period to the 80's).
The visit lasts about one hour beside the spaces for the cult, rich in splendid sculptured decorations in stucco, marble marquetries made with precious marbles and holy ornaments. You'll visit one of the many monks cells, to realise how was their quiet comfortable life of study and meditation, the different cloisters and the huge kitchen with its fireplace as big as a room. Some of these rooms were used as setting of the fairy-tale film "More than a miracle" (1967) with Sophia Loren and Omar Sharif.
Been there? Done that? Share your experience and tips!
Haven't visited yet? Have questions about The Charterhouse of Padula? Ask them here!