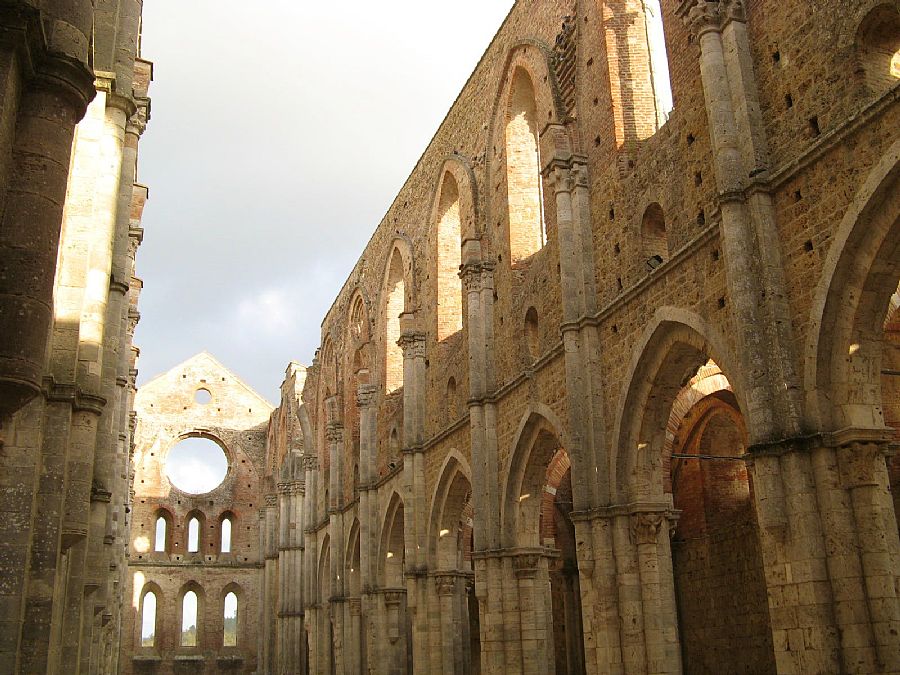 It's the stuff of legends and Disney movies - angelic visions, knights, nobles and a sword in the stone. But this isn't a movie set, it's a 13th century hilltop church in Tuscany. The Abbey of San Galgano is dedicated to a Tuscan nobleman, Galgano Guidotti, who renounced his privilege and riches after seeing a vision the Angel Gabriel. He retreated to the woods around Montesiepi and lived as a hermit, dedicating himself to prayer. When he arrived, he tried to break his sword against the rock as a symbol of breaking away from his old life, but the sword miraculously plunged into the stone - and stayed.
A round chapel was built, now part of the larger monastic complex that houses the tomb of St. Galgano along with his famous sword. Many scholars believe that the legends of King Arthur, the round table and the stone in sword originated right here. Through the years, the story of St. Galgano became embellished and was spread across Europe by pilgrims and wayfarers.
But as much as the sword captures the imagination of visitors, even more are drawn here by the mystical remains of the Abbey of San Galgano, a hulking shell of a Gothic church built in 1218. The mysterious monastery church is an architectural spectral - roofless but beautiful in its pure Gothic style, a stone ghost admidst the forest. It was Tuscany's first Gothic construction, and was used as inspiration for the cathedral of Siena. Once a thriving Cisternian community, rivalries and reversals caused it to fall into disrepair, but the well-preserved outline provides a fascinating backdrop for the legend-seekers and those wanting to drive along the cypress-lined lanes and enjoy an hour of quiet in the hills.
Been there? Done that? Share your experience and tips!
Haven't visited yet? Have questions about St Galgano Abbey? Ask them here!