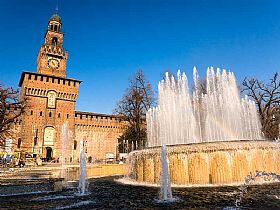 Among Milan's primary attractions, the Castello Sforzesco is one of the must-sees in the city. The old fortress is one of the largest in Europe. It was built by Lord Visconti along the city walls for defense. It was later fortified with a moat and drawbridge. In 1466 it was transformed into a proper castle and used as a regal residence, adorned with a large park and hunting grounds by the Sforza family. Four towers, each one distinct, were added, along with an elegant courtyard. Ludovico Sforza called in the likes of Bramante and DaVinci for the project. Some of the salons were frescoed in spectacular style.
During the Spanish rule, it was further fortified with a star-shaped defensive wall around it, in classic Spanish fortress style. The Austrian regime used it purely as a military installation. It was partially destroyed in a siege by Napolean, who also further broked down the remaining external defenses. He used the interior as lodgings for his troops, turning the courtyard and some of the salons into stalls for the horses. It was sacked by the populace in revolt then restored by the Austrians. (Typical of Italian history and its series of rulers!)
It is now a museum complex that guards a load of treasures. The Museum of Ancient Art, the Pinacoteca (Art Gallery), the Museum of Wordworking and Decorative Arts, an Egyptian museum and one dedicated to musical instruments are all here. Michelangelo's fascinating unfinished last work, the Rondanini Pieta', is displayed in the Museum of Ancient Art and must been seen. Michelangelo worked on it up until his dying day, the last piece of marble that his scalpel touched, and a work that was intended to grace his own tomb. It is fascinating to see, because of its roughness, the marks of the sculptor's tools visible, the emerging vision of the artist still emerging from the stone.
The Castello plays host to musical evenings and special cultural events, as well. It is Milano's culture center.
Been there? Done that? Share your experience and tips!
Haven't visited yet? Have questions about Sforza Castle? Ask them here!
Address in Milano:
Piazza Castello.
Ph. (+39) 028 846 3700.