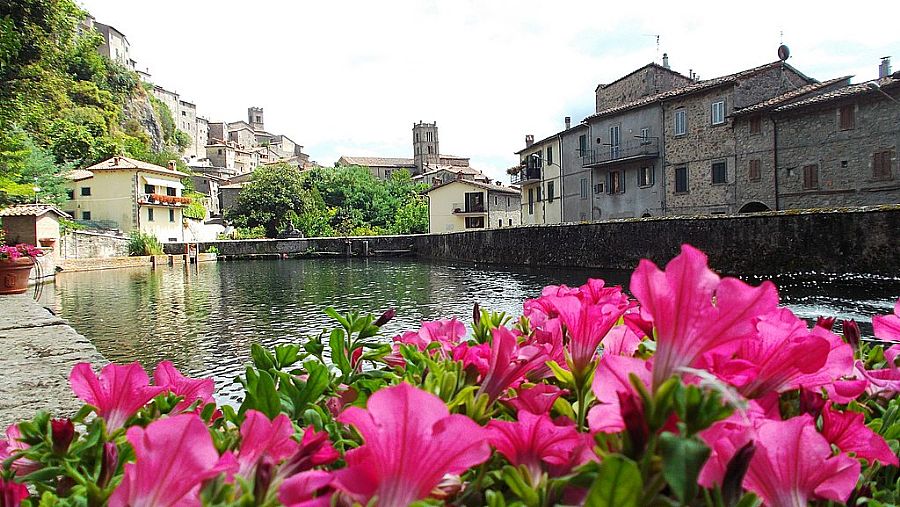 Located on Monte Amiata, between the Val d'Orcia and Saturnia, the pretty medieval town of Santa Fiora has much to offer for those who want old world Tuscany without crowds. Named among the "borghi piu' belli d'Italia" (prettiest small towns in Italy), it sits at 687 meters above sea level (2252 feet) so enjoys fresh mountain air, perfect for those who enjoy outdoors pursuits like biking, hiking and horse riding, or want a break from the heat of the seaside and lower elevations.
Not far away are noted hot springs, which also is a big draw! Saturnia and Bagno Vignoni, among others in the Val d'Orcia offer healing, soothing waters. The town is known for its nature, cuisine, and relaxing setting, along with old time traditions.
Santa Fiora is a pretty stone village wth a water basin that is spring-fed in the middle that was the old fishery, next to a rich green garden. The Palazzo Sforza Cesarini was built in 1575 over the former Aldobrandeschi Castle, the former lords of the land. The construction of Palazzo Sforza Cesarini dates back to 1571. Today, the is seat of the Town Hall and is decorated with some lovely 16th century frescoes. Of course, the patron saint is Santa Flora, so the Pieve dedicated to her and St. Lucilla is a must-see, with fine frescoes.
Because the town was also an important mining location, they celebrate Santa Barbara, the patron saint of miners, but there is also a fabulous festival called La Fiaccolata on December 30, that includes small bonfires all over town. There are autumn food festivals, and a Palio event in honor of Santa Flora, the patron saint, at the end of July, which starts with a blessing then a parade in medieval costumes, and then an archery contest, with the winner taking home the Palio (a painted "flag") and bragging rights.
The cuisine is mountain fare, with chestnuts appearing in many forms, including flour used in many dishes, but also mushrooms, red onions, salami and fresh ricotta are local staples. Don't miss the chestnuts in rum or the polenta from chestnut flour!
Photo credit: Termauri, CC BY-SA 4.0, via Wikimedia Commons
Been there? Done that? Share your experience and tips!
Haven't visited yet? Have questions about Santa Fiora? Ask them here!
Explore nearby towns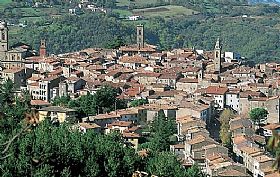 In the foothills below Mount Amiata, Castel del Piano rests above the plains in a hillside position.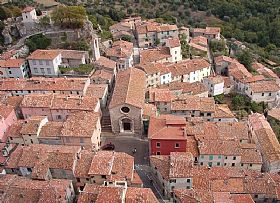 This pretty village is anchored on a cliff between its castle and a stone fortress rooted on a rock.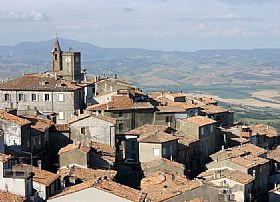 Perched on the slopes of Monte Civitella, Castell'Azzara is a charming village in a commanding position over the Paglia Valley.