Real Bolognese Sauce -Bologna Style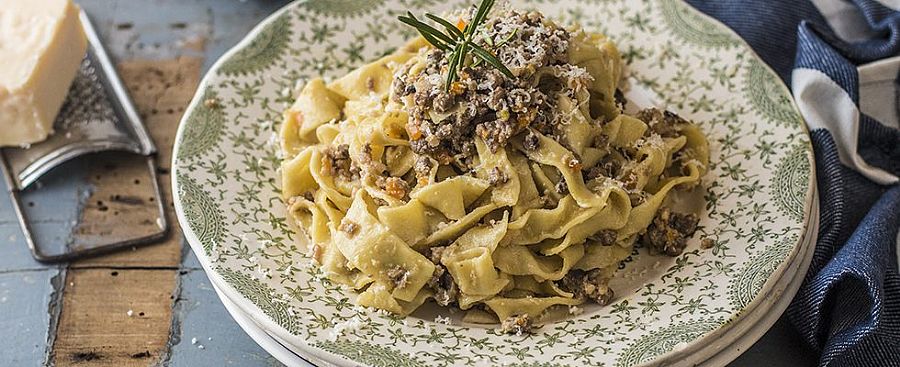 As opposed to many recipes for "Bolognese sauce" found around the world and even around Italy, the true Bologna-based version is not really a red sauce at all. It is, at its essence, a meat sauce; cooked for a long time with just a little tomato to bind it all together. Here's a recipe from Bologna, to help you make the real deal!
.
.
Ragu alla Bolognese
INGREDIENTS
Pancetta, finely chopped (about 1 cup)
1-2 carrots, minced
1-2 celery stalks, minced
onion, minced, about 1/3 cup
ground beef, about 1/2 pound, not too lean, not too finely ground
White wine - about 2/3 cup
1/4 cup tomato sauce
1/2 cup milk
In a pot, add a bit of olive oil and saute the pancetta so it melts the fat and lightly browns the meat. Add the vegetable mince (called soffritto or odori) and saute slowly so it softens.
Add the ground meat and brown, stirring to break it up. Add in the white wine, about a bottle of it, along with the tomato sauce, salt and pepper. Cover; let it cook on low for about 2 hours, stirring now and then and adding a little meat or vegetable broth if needed to keep it from drying out. At the end, add the milk and stir to blend in, cooking a few more minutes.
Toss the sauce with freshly cooked tagliatelle or pappardelle noodles, but in any case they should be egg pasta. Top with grated parmigiano cheese.
Some cooks add a bay leaf, a sage leaf or two, and/or a small bit of minced rosemary but the "official" recipe doesn't call for it. Use it to your own taste!
Now. The pasta. Tagliatelle, fettuccine, or pappardelle are all okay, but the mayor of Bologna says it is absolutely not right to use spaghetti!!
Been there? Done that? Share your experience and tips!
Haven't visited yet? Have questions about Real Bolognese Sauce -Bologna Style? Ask them here!