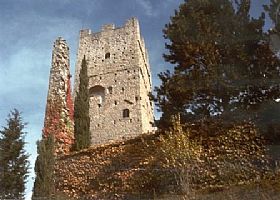 Porciano, suggestive hamlet located in proximity of Arezzo, holds the ruins of what used to be a very important castle in the Middle Ages.
It's been possible to rebuilt the complex water canalization system that, from the tower's roof, flowed to both the main cistern into the court of the castle and a smaller cistern inside the tower itself, destined to drinkable use. After the last works, made in 1978, the remains are open to the public and very well kept: the tower hosts even the owner's residence and a charming museum. The Court of Porciano used to be frequented by knights, nobles, ambassadors and, all the merchants coming from the East had to pass under its walls to go to Florence
Ancient memories about Porciano date back to 1000, when it was residence of the Count Guido di Teudegrimo, who founded the branch of Counts Guidi da Porciano. The castle was indeed the main residence of this noble Casentinese family. Two centuries later, from 1288, Porciano belonged to Count Tegrimo, here retreated after the battle of Campaldino, who assaulted and robbed unlucky wayfarers and merchants passing nearby the castle.
The tower locally known as Torre Palazzo di Porciano (35 metres high, with 6 floors) is the biggest of the whole Casentino (one of the four valleys in which is divided the province of Arezzo). Like many other villages located along this valley, Porciano has numerous memories related to Dante Alighieri. It's told that the poet stayed here in 1311 in order to persuade the Counts Guidi to support the new crowned Emperor Arrigo VII, and draw up with the Ghibellines.
The eastern tower is still provided with a Guelph battlement and rises among the remains of the ancient town walls, while the one on the west-side's become the bell-tower of the current church of this lovely town.
The fast growing of the close village of Stia (located downstream and easier to reach), at the beginning of XVI century, caused the old castle to collapse. At the beginning of the XIX century, Porciano became a Counts Goretti's property and they looked after meticulous long restoration works, during which there where found numerous findings useful to reconstruct the various phases of historical development of the castle.
Been there? Done that? Share your experience and tips!
Haven't visited yet? Have questions about Porciano di Stia? Ask them here!
Explore nearby towns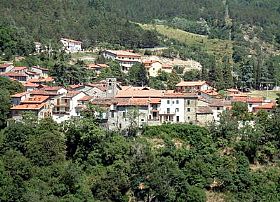 The village of Moggiona stands on a rocky outcrop in the middle of a small secluded valley, about 700 meters above sea level.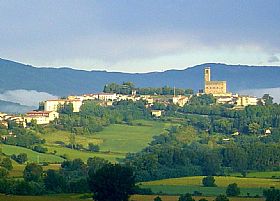 Poppi, located in the lovely valley of Casentino between the cities of Arezzo and Florence, is part of the National Park of Foreste Casentinesi.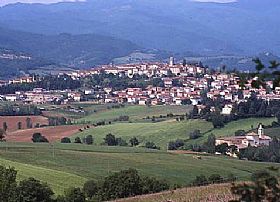 Lying on a low hill north of Arezzo, Bibbiena offers small town life in a lovely setting.