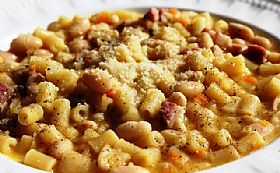 Pasta e Fagioli
A hearty dish that Italian emigrants took overseas with them, this vegetable stew often became known as pasta fazool in the adopted lands. Pasta and beans doesn't really describe the soul-soothing qualities of this simple soup! If you use canned beans, you can cook up a satisfying pot quickly.
It's found all over Italy, with every region making a bit differently, but the principle is the same: vegetables and beans with short pasta in a hearty broth. Some add tomatoes, potatoes, spinach or cabbage, so experiment with the combinations that you like best!
If you opt to use dried beans, start by soaking them overnight. Drain, then boil them in abundant water for about 45 minutes. Reserve a cup or so of the cooking liquid.
1/3 cup chopped pancetta (optional)
Half an onion, chopped
1 clove garlic, minced
1 carrot, chopped
1 celery, chopped
Olive oil
2 cans borlotti or cannellini beans, drained
3 or 4 canned tomatoes, chopped plus some of the juice
1 or 2 thyme springs
1 sprig of rosemary
2 or 3 sage leaves, minced (or a pinch of dried sage)
1 1/2 liters broth
1/2 pound short pasta, like ditalini, elbows, or shells
Grated parmigiano or pecorino cheese
In a large stockpot, heat the olive oil, then saute the pancetta if you're using it until it is bronwed. Add the onion other vegetables and saute until they're softening. Now put the rest of the ingredients in the pot and allow to simmer for about 15 minutes; then toss in the pasta and continue to cook until the pasta is ready (al dente, not mushy).
Sprinkle with some parmesan or pecorino cheese and enjoy.
Been there? Done that? Share your experience and tips!
Haven't visited yet? Have questions about Pasta e Fagioli? Ask them here!