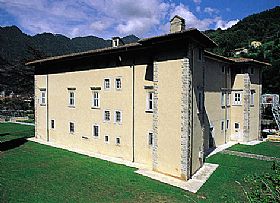 Palazzo Mediceo di Seravezza was commissioned by Cosimo I Medici, between 1561 and 1569. It was probably projected by Bernardo Buontalenti or Bartolomeo Ammannati. The building rises not far from Seravezza, along the left bank of the Torrent Vezza, in a strategic position, close to the grand ducky's border and great to control the marble and minerals extraction from Monte Altissimo.
Palazzo Mediceo has got indeed the austere look of a solid fortified villa, with edges and loopholes at the ground floor. The courtyard is closed by a wall, whose door is the main access (where you will find the walled gravestone dedicated to Cosimo I). The foreparts edges of the courtyard have been made with marble ashlars.
The ground floor was destined to servants and kitchen. The ceiling shows some interesting characteristics: a wickerwork of branches is twined in-between the beams, like the Buontalenti Villas. Above the roof is a small bell-tower dated 1793, with the following inscriptions: "Petrus Rufini De Pontremoli fecit" and opposite: "1770 Gaetano Brandi R.F.". The well - placed in the middle of the courtyard, with a well-curb made out of a unique marble piece – was a new element, part of the composition. The well surmounted by two columns, and an architrave (where is placed a marble trout between two spheres) unites them. It was built around 1603: according to the legend, indeed, the Grand Duchess Maria Cristina a Ruosina caught a huge trout in 1603 and the well was built in order to commemorate that event.
Inside the building is preserved a big table of multicoloured inlaid marble (marmo mischio), made in 1557 by the stone-cutter Paolino di Barsetto Finocchi, who never finished it and for this reason he was fined twenty lire. Beside the Palazzo is a lovely chapel, built at the times of Maria Cristina, probably designed by Buontalenti. The chapel was deconsecrated a long time ago, and is now used in summer to set small exhibitions of contemporary art.
Michelangelo Buonarroti spent three years in Seravezza (from 1518 to 1520) and laid the foundations of marble industry in Versilia: the mining activities had a great impetus under the rule of Cosimo I. The marble quarry of Piastraio di Stazzema was opened and the viability strengthened, while the successors Francesco I and Ferdinando I started the excavations in the basin of Mount Altissimo, continuing the Michelangelo street until the feet of the mountain.
The best artists accredited to the Medicean Court went to Seravezza around the middle of the XVI century, attracted by the production of precious marbles coming from the new quarries. The Palazzo Mediceo served the purpose to temporarily welcome the Duke during his frequent visits to the silver mine of Bottino and the marble quarries.
Been there? Done that? Share your experience and tips!
Haven't visited yet? Have questions about Palazzo Mediceo? Ask them here!
Address in Seravezza:
Via del Palazzo.
Ph. +39 058 475 6100.
Fax +39 058 475 6100.