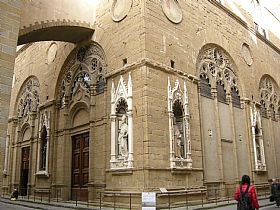 The palazzo-like building was converted into a church with distinctive statues. The Church of Oransanmichele started as an oratory dedicated to San Michele (St. Michael), hence the unique name. The site was originally occupied by a Roman temple, then the Lombards built a monastery here to St. Michael. It was eventually taken over by the Republic of Florence and a wheat market established here. The building had to be reconstructed following a fire, constructed with an open loggia like the open-air markets of the city, with the lower floor dedicated to the sale of wheat while the upper floor was used as a granary. Two hollow pillars ingeniously were used to transfer the grain to the market below. There are chutes and slots still visible.
It was converted to a church, the loggia closed, and stained glass windows added. The unique structure was modified into a Gothic style and niches added for statues of saints. This is the distinctive feature of the structure and one that makes it a renowned attraction: the niches were filled with statues that were commissioned by various Florentine guilds and the works completed by some of the city's most noted artists. The sculptures were added over the course of nearly three centuries, giving it the added appeal of seeing the change from Gothic to Renaissance style in this one place.
The statues sit in niches -called tabernacles- and adorn the exterior of the building. Works include Christ and Doubting Thomas by Verrocchio; St. Mark and St. Peter by Donatello; along with several sculptures by Ghiberti (who also carved the doors), Nanni di Banco, Giambologna, and others. The tabernacles were assigned to different professional guilds - Shoemaker's Guild, the stone masons, wool merchants, sword makers, furriers, silk weavers, butchers, and physicians guilds, among others. The statues have been replaced by replicas; the originals are housed in the Oransanmichele Museum. The bright space is a must for art enthusiasts, to view these beautiful pieces. It's also worth a stop to see the incredible view of Florence from the panoramic terrace.
Been there? Done that? Share your experience and tips!
Haven't visited yet? Have questions about Oransanmichele? Ask them here!
Address in Florence:
Via dell'Arte della Lana.
Ph. (+39) 055 284 944.