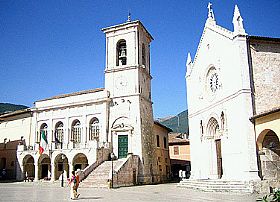 Norcia, is located in the lovely Valnerina Valley, where Umbria skirts Le Marche. It was part of the Ancient Roman Empire, but its roots go back much further to the Sabine people who dwelled in this area. Christianity arrived during the 3rd century, which left a mark on the town - twin sibling saints were born here: St Scolastica and St Benedict, whose parents were wealthy Roman citizens. St. Benedict is the Patron Saint of Europe, and founded the first monastic Christian community in Italy.
Norcia housed goldsmith and painting workshops, and was a town populated by artists and high-qualified experts in medicine, law and literature. The medical care from here was well noted in ancient times and the town's Roman name of Nursia was bestowed upon caregivers - "nursino". It still has artisan shops, and is considered one of the most interesting places of the whole Valnerina. It sits within its ancient walls and offers splendid landscapes immersed in the uncontaminated nature of the green Umbrian heart, within the National Park of Mount Sibillini.
Aside from St. Benedict, Norcia's main claim to fame is its butcher shops and culinary delights. Norcia is an epicurean epicenter, so famous for their cured meats that charcuterie shops all over Italy are referred to as "norcinerias". They are skilled craftsmen whose medium is meat - specifically pork; they turn out high-quality salamis, prosciutto and other porkly delights. But foodies will swoon over the other delicacies found here - tiny, tender lentils; mountain-foraged mushrooms and truffles; cheese (especially pecorino and caciotta), farro (spelt) grain; and chocolate are all to be had and enjoyed liberally in this almost-hedonistic hamlet. The local wine is noteworthy, as well.
The town throws an annual festa to celebrate its truffle with the Mostra Mercato del Tartufo Nero, held at the end of February and beginning of March. The treasured tuber is the highlight in all the dishes prepared throughout the event, and is available for purchase in many and varied forms. The local specialty pasta sauce, called "alla Norcina" utilizes the homemade sausage, porcini mushrooms, black truffles and cream to create a delectable dish. In short, Norcia should be on any true food-lover's list of locales to visit!
The town is truly lovely and enjoys a spectacular setting. There are mountain trails and river walks to enjoy; in the spring you can raft on the Nera River. Horseback riding and, for the adventurous types, hang gliding, are popular pasttimes here. Nearby is Castelluccio, a town famous for its flowers, where in May the entire valley springs into multi-colored blooms.
.
Been there? Done that? Share your experience and tips!
Haven't visited yet? Have questions about Norcia? Ask them here!
Explore nearby towns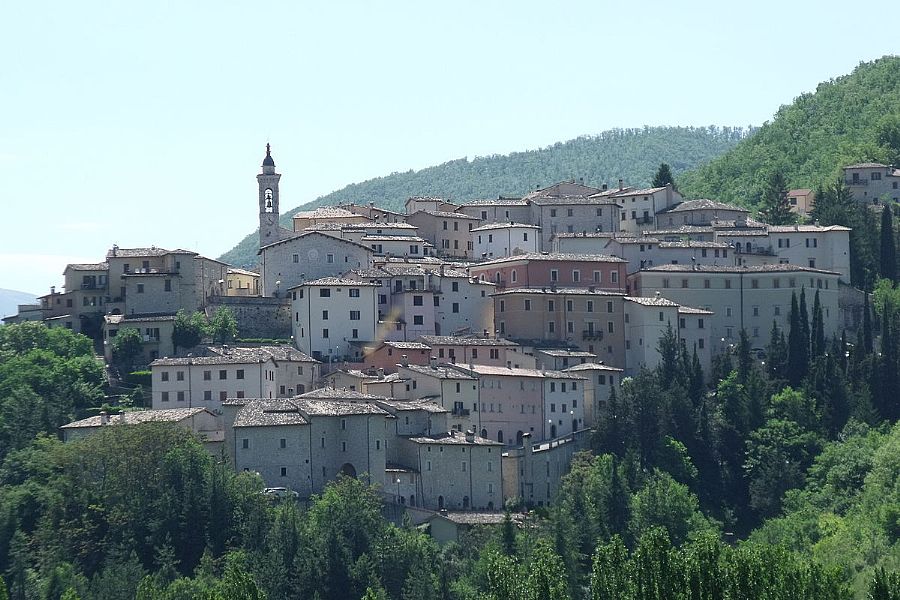 The pretty town of Preci overlooks the Castoriana valley, nestled below the peaks of the National Park of Mount Sibillini.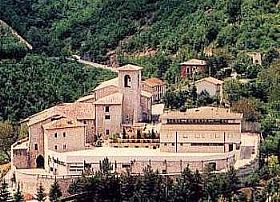 Cascia's history is deeply linked to Rita, the Augustinian saint who's born here in 1381.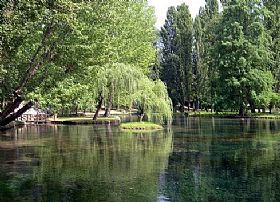 The intriguing village of Campello sul Clitunno sits squarely on the hilltop above the Via Flaminia, just north of Spoleto.