Need for Speed - A Tour to Modena's Sports Car Hubs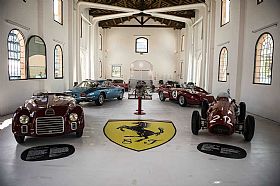 As the home of high-performance cars, Modena offers a unique opportunity to see these beasts up close and personal. Not just Ferrari, but other sports cars are on display, both in museums and at the production plant. Here is a run-down of the most popular.
Hit the starting line at the Stanguellini Historic Car Museum. Stanguellini was the first race car to be built in Modena, thus inaugurating a tradition that continues today with the likes of Maserati and Ferrari. Here you'll find a line-up of the historic racing roadsters and exhibits to give you an idea of their technology and importance for the time. The Museo dell'Auto Storico Stanguellini is located at Via Emilia Est 756, Modena. Reservations are necessary to visit.
Next stop is the legendary Lamborghini Company. The Museum was launched in 2001 and hits all the highlights of the Raging Bull brand, with a history of the head-turning cars through to the present. Get a close-up look at the models in their glass-halled museum. Open weekdays from 10:00 AM til 12:30 PM and from 1:30 PM til 5:00 PM. It is located outside Modena in Sant'Agata Bolognese on Via Modena 12.
For the real enthusiast, a visit to Pagani is a must. This spectacular sports car is the lesser-known sleek sister to Lamborghini, started by a former concept manager for that nameplate. It utilizes a futuristic design and carbon fiber for its 12-cylinder rip-roaring cars, named for its founder. Instead of a museum, you get to tour the factory and see how the babies are made. Book online in advance. The factory is located outside Modena in San Cesario sul Panaro. Cost of the tour is €24.
Of course, the flagship of Ferrari is practically synonymous with Modena. With two museums, the factory and a test track, the legendary automaker gives you a range of fun options. Start at the Ferrari Museum (Casa Enzo Ferrari) for an historic look at the cars and at Modena as epicenter of sports car manufacturing. Then take their shuttle over to Maranello to visit the museum located at their headquarters, which highlights the Ferrari brand in the present and the future. Here you'll find exhibits on Formula 1, racing, pilots' strategy and racing simulators. There is a pit stop experience and mega screens that loop Gran Prix action. Schedule for a guided tour of the factory and the famed Fiorano test track to complete the sprint through the world of Ferrari. (Full information on tours and museums is available on the website.)
Want to drive a Ferrari? This company in Modena gives you the full-power experience!
Been there? Done that? Share your experience and tips!
Haven't visited yet? Have questions about Need for Speed - A Tour to Modena's Sports Car Hubs? Ask them here!