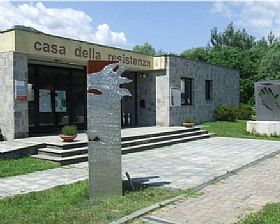 This is a solemn place to pay homage to the partisans who sacrificed their lives in the struggle against fascism. It's hard to believe that the high valleys and peaceful mountain peaks surrounding Lake Maggiore where the scene of massacres and fierce fighting during World War II. But it was here that many partisan units organized and, aided and supported by the local population, lived in and fought in these mountains against Nazi domination.
To memorialize their lives and deaths, the Casa della Resistenza and Parco della Memoria e della Pace were established. The Park dedicated to Remembrance and Peace is located on the site of a horrible reprisal massacre, with a memorial erected on the spot that 43 partisan fighters were executed by the German Nazi occupying forces on June 20, 1944. In addition, a commemorative stone is inscribed with the names of 1200 Jews of this province who were killed by the Nazis. A granite urn contains ashes from the extermination camp of Mauthausen. And a monument lists partisans who were taken prisoner, refusing to surrender to the fascists. A copper sculpture was erected by the local partisan themselves following the war, in thanks to the Russian partisans who joined their ranks in international unity against Nazi-fascism.
It is a place that is both heart-wrenching and heart-warming at the same time, highlighting both the suffering and the determination displayed by these brave souls.
The Casa della Resistenza houses interpretative displays, films and photos of the local struggles, including photos of those killed on this spot being led to their doom. It is narrated by the sole survivor of that massacre. There are other special exhibits, a library and archives dedicated to the partisans' national work, and other displays of the resistance movement.
Entry is free. It is open from 9:00 AM til 12:00 PM and 3:00 PM til 6:00 PM weekdays. In the summer it is also open on Saturday and Sunday from 3:00 PM til 6:00 PM.
Been there? Done that? Share your experience and tips!
Haven't visited yet? Have questions about Museum of the Resistance? Ask them here!
Address in Verbania:
Via Filippo Turati, 9.
Ph. (+39) 032 358 6802.