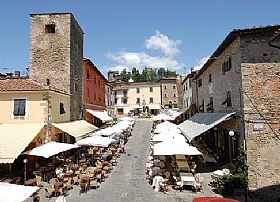 Montecatini Terme lies at the extreme foothills of the Apennines, on the west side of Serravalle Pistoiese (Pistoia), at the centre of the popular Valdinievole.
Montecatini has been focused from time immemorial on its biggest resource: the thermal waters that gush naturally out of the ground. The whole city is organized so that every visitor well deeply feel in harmony with nature, living an intensely pleasurable experience. You will walk through relaxing tree-lined roads and parks that surround the nine marvellous thermal spas: Tettuccio, Excelsior, Regina, Salute, Tamerici, Redi, Torretta, Leopoldine and Grocco.
Walking down Viale Verdi – the main central boulevard – and looking up to the the mountain you will admire the beautiful hamlet of Montecatini Alto. This hamlet, that can boast a exceptional panorama and a glorious local history full of significant events, can be reached through the ancient funicular while gazing at the hilly landscape.
A stone's throw from the funicular's arrival, you will be able to visit Piazza Giusti, which still keeps the original stone-paved floor, overlooked by Torre di Ugolino. The latter got the name from the local doctor who founded the "hydrology". Even the medieval Palazzo di Giustiza faces the piazza, showing the typical façade, adorned with numerous noble coat of arms.
The Parlascio, next to Palazzo del Podestà (residence of the local chief magistrate and governor), is the ancient site of markets and public assemblies, which must be mentioned for the picturesque frescoed front (1906) that currently houses the Theatre of Risorti.
If you walk over the piazza and turn into the narrow alley that goes up to the top, you will reach the Provostal Church of St Peter, whose Romanesque origins are still noticeable into the pillars, the façade and capitals. The beautiful interiors preserve numerous frescoes and paintings dating back to different historical ages.
A few steps away you will see the ruins of the ancient fortress, with pentagonal fence composed by slope walls and the Tower on top, anciently called ""Rocca del Castello Vecchio or Tramontana" to distinguish from "Rocca del Carmine" or "Castelnuovo" located on the opposite rise. The marvellous Clock Tower is unfortunately the only remaining of Castelnuovo.
Have a look at the monumental fountains spread here and there in the centre of Montecatini.
Been there? Done that? Share your experience and tips!
Haven't visited yet? Have questions about Montecatini Terme? Ask them here!
Explore nearby towns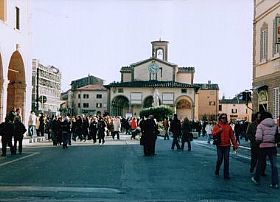 The hamlet of Monsummano Terme has grown around the Sanctuary of Santa Maria della Fontenuova, at the centre of an important road network.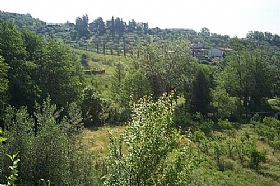 Nievole is the real heart of the Tuscan Valdinievole (Valley of the river Nievole), located at the centre of a valley covered by olive trees and colourful flowers.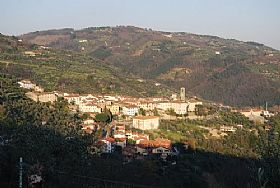 One of the oldest villages in the area, Massa e Cozzile is a stone stronghold that dates back to the third century.