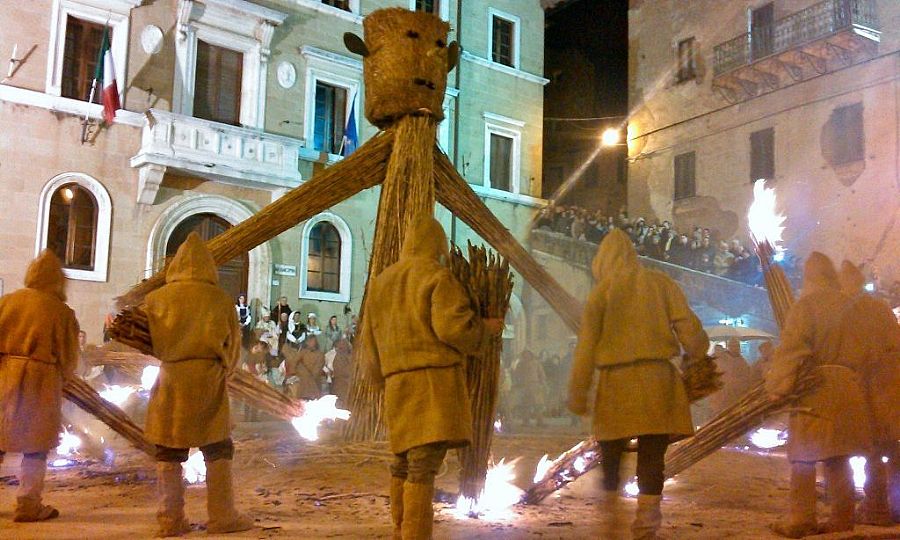 The town of Pitigliano is already fascinating, but an age-old festival gives it even more allure - La Torciata is an ancient spring rite. The Etruscans who inhabited this area practiced a fire ritual to herald spring, and while it was rolled into the feast of San Giuseppe in the Middle Ages, it is still a fascinating ceremony.
San Giuseppe -or St. Joseph's Day - is also Father's Day in Italy. The Torciata is a rite of spring, held right before the equinox, to burn away the winter blues and signal renewal and purification of spring. The Etruscans initiated the ritual, and fire has always been a symbol of regeneration or purification and following the fire they planted their seeds for the new season. The ceremony took on more elements in the medieval era, to cloak it in religious significance. In more modern times, it has been given even more elements, to include food and activities for children.
The festival goes for two days, though it culminates in the grand bonfire on March 19. The Torciata actually begins at the Via Cava San Giuseppe and the rustic shrine dedicated to the saint, a couple of kilometers outside town. Forty men dressed in cappuchin style brown robes with hoods gather and, at the trumpet blast, the "torciatori" as they are called, walk in a procession toward town carrying the statue of St. Joseph along with torches. While they make their way to the piazza, there is a parade in medieval costumes and the pageantry of the flag-throwers going on in town, along with food stalls and games for the kids.
In the piazza is a wooden figure to symbolize Winter. When the torciatori arrive in their robes, they cast their torches onto the base and burn away Winter. The bonfire continues to burn long into the night as the townspeople and visitors dance, eat and bid farewell to the cold, dark months and usher in Spring.
Been there? Done that? Share your experience and tips!
Haven't visited yet? Have questions about La Torciata Pitigliano? Ask them here!