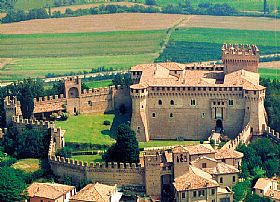 Experience centuries of history in a stunning setting at the walled hamlet of Gradara. The magical village is enclosed within its protective walls, with the castle itself at the peak, its "skyline" enhanced by the battlements.
Nestled in the hills of northern Le Marche where it brushes up to Emilia Romagna, the castle looks like a fairytale or movie set. In fact, it is one of the best preserved castles in the country. It was built as a military post then became a noble residence for a veritable Who's Who of Italian power - the Malatesta, Sforza, Borgia and Della Rovere all had possession at one time.
A visit here will transport you back in time to the Middle Ages and to Dante's Divine Comedy - in the fifth canto is a tale about Paolo and Francesca, whose star-crossed love meets its end in this castle. There is a walkway on top of the walls, interrupted by the watch towers, where you can see the interesting structure and take in the pretty panoramas. Inside the building is the Court of Honor, the noble apartments and grand salons, and even a torture chamber. Don't miss the underground passageways called Le Grotte, part of the castle's museum. The museum has displays on the history, events and people of the place, along with costumes and documents. There is a bookshop, too.
Walk around the village and enjoy the pristine streets and Old World atmosphere; it's a rare and beautiful place!
The Castello di Gradara is open MONDAYS from 8:30 AM til 2:00 PM; TUESDAY THROUGH SUNDAY from 8:30 AM til 7:15 PM (last entrance is 6:00 PM).
Been there? Done that? Share your experience and tips!
Haven't visited yet? Have questions about Gradara Castle? Ask them here!