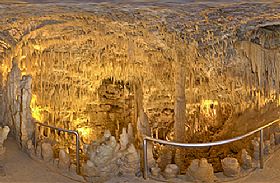 The spectacular caverns of Castellana are the reason thousands of people come to this part of Puglia every year. Located where the Murgia meets the Valle d'Itria, this extensive and impressive cavern system is definitely worth seeing. The part that is open extends for 3,348 meters with a descent of 122 meters down at its deepest. Cut into the limestone bedrock, the caverns show off fantastic shapes, fossils, stalactites and stalagmites in surprising colors and formations. It is a natural work of sculptural beauty. There is the abyss, and "la grave," (pronounced GRAH-vay) which is the largest chamber, so big, in fact, that they hold shows and events there!
The full tour is a 3-kilometer long trail, while a shorter visit is available that covers only 1 kilometer. The caverns are open year-round, but with less departures available in the winter. Remember that the temperature is between 14º -18ºC (57º - 64º F) so bring a sweater or jacket along, even if the Puglia summer is hot! There is a museum and an observatory with weather station on the property, too.
There are special cultural events and shows held here regularly; for example, at Christmas they do a live nativity scene. Other events include cinema inside, a show based on the Inferno, and a creative writing/literature workshop. In the summer, for 10 days the grounds are turned into a carnival called GrotteLand, with free shows, bands and dancing, a food avenue, games and sports. There is paintball, a climbing wall, and a children's fantasy woods.
Been there? Done that? Share your experience and tips!
Haven't visited yet? Have questions about Castellana Caverns? Ask them here!