Basilica of St Francis of Assisi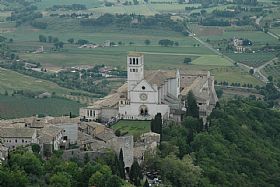 The current prosperity of Assisi is, ironically, tied to a humble saint who shunned riches. The city became a pilgrimage site almost immediately following Francis's death in 1226, and work on the basilica to honor him began in 1228. The enormous church is a gleaming temple dedicated to his memory and works. The size and opulence may seem out of character for the man who lived in poverty and obedience as a wandering preacher in harmony with God and nature, ministering to man. But it became a reception and hospitality site for the vast numbers of pilgrims who arrived in Assisi, and became a point of both civic pride and religious devotion.
The Basilica of San Francesco is actually two churches in one, with a lower basilica and an upper basilica. Below is a Romanesque church with scenes from the New Testament and from Francis's life - behind the altar you'll find frescoes depicting Obedience, Chastity and Poverty. The tomb of the saint is located in the lower basilica, as is the relic room where items that belonged to Francis are displayed. The upper basilica is a colorful decoration by prominent artists such Ciambue, Giotto, Lorenzetti and Simone Martini. Scenes from Assisi and local landscapes are depicted as backdrops to Francis's life story. The azure ceiling looks like the starry sky that Francis slept under much of his life.
The basilica of St. Francis is also a papal basilica, especially significant with Pope Francesco, who took his name in honor of Assisi's humble saint. St. Francis is also the patron saint of Italy. There are many websites which give good explanations of the fresco cycles to help you better understand them, or you could hire a guide while you're in Assisi.
The town of Assisi is a beautiful hill town to explore beyond the church, and there are trails to the hermitage in the woods that Francis and his followers favored. Don't miss the church on the plain below Assisi which preserves the original chapel that Francis restored and where he died, the Basilica of Santa Maria degli Angeli.
Been there? Done that? Share your experience and tips!
Haven't visited yet? Have questions about Basilica of St Francis of Assisi? Ask them here!