Baroque Festival La Scamiciata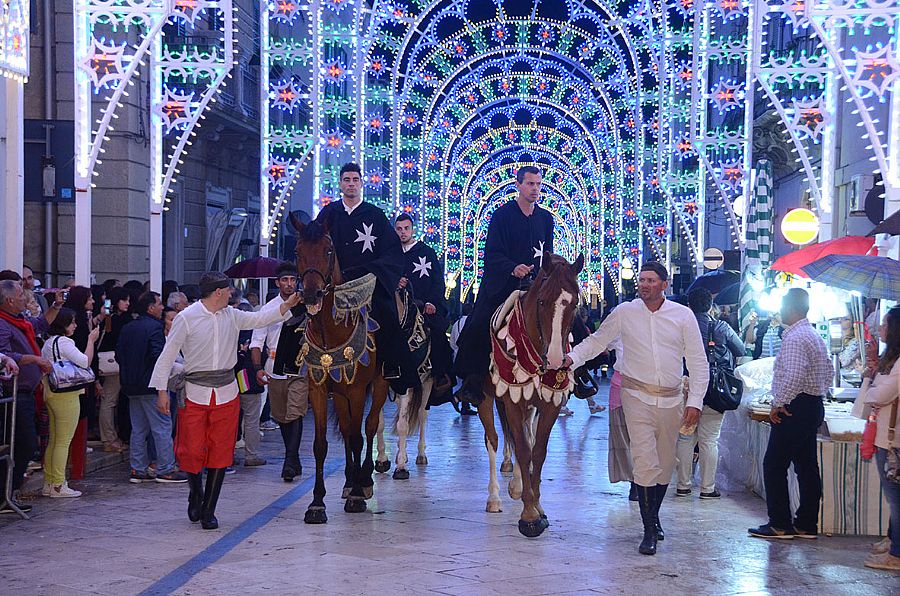 Fasano pays homage to its history with a month-long festival that culminates in a grand re-enactment. The festa centers on an event that occurred here on June 2, 1678, though the townspeople recount it as if it happened a few decades ago instead of a few centuries. After suffering years of pirate raids the Fasani decided they'd had enough and fought back, defeating the Turks in an epic battle just below the walls of the town.
The battle is re-enacted with major fanfare that includes period costumes, old-time trumpets and drums to beat out the time for the local "militia", knights and nobles on horseback, ladies in ornate gowns, and flag-throwers. The battle is played out in the streets. The entire spectacle is called La Sciamiciata. It derives from "sciamare," meaning "pouring out" or "spilling over" probably indicating the townspeople's rage spilling out and giving rise to a revolt to take back their tranquility and town.
But the festival isn't just the Sciamiciata, because it is a month-long event that includes art exhibits, music, theatrical shows, and food-oriented evenings. A highlight is the beautiful procession to the Sanctuary of the Pozzo Faceto outside town, all done in Baroque costume. Local legend holds that the Madonna appeared to some farmers and indicated where they should dig a new water well. They went out into the countryside and found an image of Mary and started digging. As they excavated, they hit a cave where they found an ancient painting of the Madonna with Baby Jesus. It was an ancient rock church. The image was eventually moved to a new church built above ground, and the tradition of an annual pilgrimage began.
The Sciamiciata event brings out lovely light arbors, food festivals, and a lively atmosphere, making June a nice time to visit Fasano
Been there? Done that? Share your experience and tips!
Haven't visited yet? Have questions about Baroque Festival La Scamiciata? Ask them here!