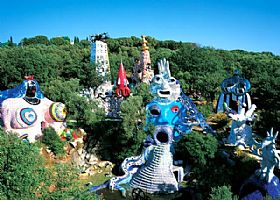 Art has been enhancing Tuscany's breathtaking landscape for centuries. Towns, villas, cathedrals, promenades, age-old parks transformed this region into a land filled with rare examples of medieval, Renaissance and modern art and architecture, but also with a touch of contemporary art experimentation. Art parks are among the highest and most original expressions of contemporary art and design in Tuscany. Three of them are internationally renowned and all three developed and grew out of private initiative.
One was by the entrepreneur and art lover Giuliano Gori, the other two were created by the artists themselves, Daniel Spoerri and Niki de Saint Phalle along with the sculptor Jean Tinguely.
FATTORIA DI CELLE
Giuliano Gori turned his estate, Fattoria Celle, near Prato (at roughly 20 mins from Pistoia), into a true open-air museum in 1982. The project was born out of his interest in the new art movement of "Site Specific Art" which he had observed in Kassel and Venice in those years. He enlisted the help of the curator Amnon Barzel to develop and install specific art projects in his gorgeous garden and in some of the rooms of the villa.
The park is currently home to a unique open-air museum consisting of over sixty site-specific works of art and sculptures by great contemporary artists such as Pistoletto, Luciano Fabro, Sol LeWitt, Richard Long, Robert Morris. The villa regularly houses temporary exhibits, seminars, international contemporary art events (address: Via di Santomato, 7a – Pistoia), visits of the park are a arranged upon request and only in the spring-summer season.
The two-hour guided tour is free of charge but the proprietors screen the requests which must be sent via fax at the following number: +39 0573 479 486, stating the reason of interest.
TAROT GARDENS
Niki de Saint Phalle and Jean Tinguely, one of the founding fathers of the kinetic art movement, settled in Capalbio (south of Tuscany, nearby Viterbo) in the 70's . There Niki created a true contemporary art marvel known as the Tarot Garden, comparable to Gaudì's most creative works. The construction of the park was started in 1979 and ended in 1988. It was built around the artist's house. Various Tarot figures guide you through larger-than-life walk-through sculptures that are covered with coloured mosaics that reflect sunlight in this place that is clear and bright all year long . It is a fantasy-land of decoration and design. The artist herself decided to grant all visitors free entry on the first Saturday of January, February, March, November and December. The Tarot Garden Foundation – Garavicchio-Capalbio, phone number: +39 0564 9895122
DANIEL SPOERRI SCULPTURE GARDEN
The Swiss sculptor Daniel Spoerri created a park filled with bronze sculptures on the ground surrounding his villa in Seggiano (at about 80 Km from Siena). At the beginning, the park housed his own works only. Currently, there are 87 works of art by 42 different artists spread over an area of 16 hectares covering a range of terrain and media. The park takes advantage of the natural landscapes to display specially sited sculptures. Open from November to March upon reservation, phone number: +39 0564 905 805. The rest of the year it is open every day except of Monday from 11 am to 8 pm.
Been there? Done that? Share your experience and tips!
Haven't visited yet? Have questions about Art Parks in Tuscany? Ask them here!