Abbey of San Pietro in Badia a Ruoti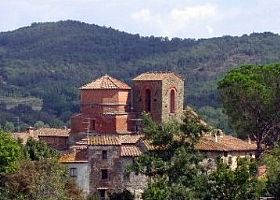 The Abbey of St Peter in Badia a Ruoti, hamlet of Bucine, has certainly ancient origins even though it is not possible to fix a precise date of foundation. Once the village belonged, along with the nearby powerful town of Badia Agnano, to the Benedictine order, which was quite widespread in Tuscany around the year 1000.
In the XI century the Abbey annexed the monasteries of St Angelo a Nasciano and St Angiolo a Purgatorio, the churches of St Angelo a Duddova, St Lorenzo and St Tiburzio a Bucine, St Giovanni in Allevaria, St Niccolò and Silvestro, the parish church of Sogna and the churches of St Pietro MonteLiscario, nearby Siena, and St Matteo delle Celle within the same diocese.
It used to be a powerful abbey with a huge power, with privileges and indulgences from the Vatican. The friars also managed a local farm with vineyards and vegetable garden, and benefited of generous donations from the local noble families.
The life at the Badia was unfortunately scanned by several irruptions of the various armies taken up into civil battles and wars, that periodically devastated the Valdambra.
Its decadence started in 1479, when Neapolitan and Papal troops occupied and partially destroyed the monatery. In 1491, Alessandro III put the abbey in commendam. The first commendatory abbot was the cardinal Francesco Todeschini Piccolomini, archbishop of Siena and future Pope Pius III.
The architectural complex of Badia a Ruoti, formed by the church and annexed bell-tower, the Church of Compagnia and the convent with cloister, has undergone numerous important changes throughout the ages. The Church is Latin cross shaped: the stunning façade has a lovely hanging porch dated back to the XI century.
In 1500, for want of some abbots and benefactors, the walls got totally frescoed. In 1600 the whole interior architectural structure was changed into a Baroque style and there were added three altars: two lateral and one in the middle.
The wonderful painting attributed to Neri di Bicci (1472), represents the Coronation of the Virgin and Saints, while the Lady Day on the upper lunette has been moved from the high altar to the apsis. The same painting was later moved again to the original position from the bishop monsignor Batignani, who wanted the Baroque superstructure to be removed from the altar, and brought back to life the architectural lines of the old cupola (made half a meter higher in 1926).
Been there? Done that? Share your experience and tips!
Haven't visited yet? Have questions about Abbey of San Pietro in Badia a Ruoti? Ask them here!