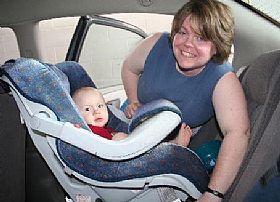 According to the Italian law about passenger safety, any time you seat in a vehicle fitted with seat belts it is compulsory to wear them.
Children who are under 36 kg (97 pounds) or 150 cm (4 ft, 9 in) must use appropriate child restraints, which are of two kinds: child car seats and boosters.
Child car seats are mandatory while the child is less than 18 kg (48.5 pounds). Children who weigh more than 18 kg/48.5 pounds can use boosters, which lift them up to the point where the seat belt can be fastened appropriately.
Bear in mind that:
Child car seats must be reserved in advance when you rent a car.
Boosters might not always be available for rental along with the car, but they are inexpensive and can be bought locally, if you are not bringing one along.
All infants should always ride rear-facing until they weigh at least 10 kg (24 pounds). Never place the baby in the front seat if you can help it. Absolutely never in front of a passenger-side air-bag that cannot be deactivated. The middle rear seat is generally considered the safest, but most are not latch compliant, so use the standard seat belt installation for the middle seat unless your child safety seat's instructions specifically note otherwise.
Children weighing 10 kg/24 pounds and over might be placed with their car seats facing forward.
Seat belts must be worn and securely fastened even for short trips.
Been there? Done that? Share your experience and tips!
Haven't visited yet? Have questions? Ask them here!