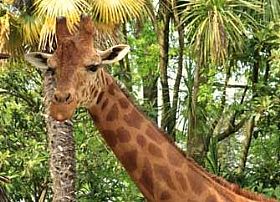 The "Giardino Zoologico di Pistoia", was founded in 1970 for want of Raffaello Galardini. It is the biggest zoo in Tuscany as well as one of the main zoological gardens in Italy.
The park expands for over 7 hectares and hosts about 400 animals among birds, insets, mammalians, reptiles and amphibians. Thanks to the cures and high professionalism of the staff, the zoo has reached a number of successes in terms of reproduction of dying species like the desert fox, the lemur catta and the spectacled cayman.
Nowadays the Giardino Zoologico di Pistoia is getting deeply renovated. The staff focuses much more on proposing great educational activities, programs for the conservations of the species and wellness of the animals hosted here.
The zoo cooperates with the local university, giving important contributes to the knowledge of the guests' ethology and biology.
"Incontri Bestiali" is a lovely initiative patronized by Zoo di Pistoia, born to facilitate the human approach to the animals. It consists of a direct, real contact with some species housed in the garden.
Nico the parrot, Elfo the snake, and Anacleto, the owl, are only a few of the dozens animals protagonists of "Incontri Bestiali", where children and adults can meet their their animal friends under the supervision of skilled staff.
These incontri have the purpose to promote campaigns to awaken public opinion to animal beauty and rights, in order to favour a good management of domestic animals and limit the risks of abandonment.
Been there? Done that? Share your experience and tips!
Haven't visited yet? Have questions about Zoo in Pistoia? Ask them here!
Address in Pistoia:
Via Pieve a Celle, 160.
Ph. +39 057 391 1219.