The Barrel Race in Montepulciano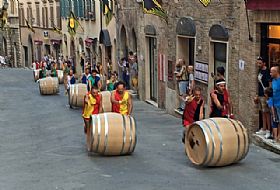 A different type of Palio event is more country-style and certainly less crowded than Siena's famous event. This one takes a twist on the concept, and instead of a horse race, pits the contradas against each other in a barrel race!
The palio is a painted banner, but in this case it is called the bravio, an antique word for "prize". The historic districts of Montepulciano - eight in all - compete in the race to win the bragging rights and good camaraderie. The contradas host dinners and other neighborhood events, while the chosen men ready themselves for the heavy lifting...or pushing, as the case may be. This is the main event, held on the last Sunday of August, when they are emptying the wine barrels in preparation for the harvest and the new wine. The men must push the 80-kg barrels through the streets, sometimes uphill, over the more than one kilometer-long course, to the finish line in Piazza Grande. It's a raucous kind of fun.
The week preceding the Bravio has a line-up of traditional events, too. There is an elegant parade in medieval costume, the sbandieratori (flag-throwers) who toss an assortment of heavy flags in synchronicity accompanied by trumpets. The procession of candles is a totally candle-lit procession in costume to the church bearing long white tapers. There are dramatic shows and concerts, and food, too.
The barrel pushers have night-time trials throughout the week, which are fun to watch, too.
Been there? Done that? Share your experience and tips!
Haven't visited yet? Have questions about The Barrel Race in Montepulciano? Ask them here!