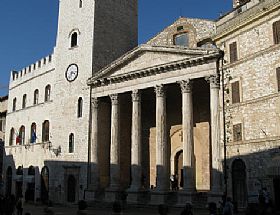 This ancient monument still stands in the middle of Assisi as a witness of the city's long history. The pagan temple was dedicated to Minerva, the goddess of wisdom, and occupied a prominent position in the center of Roman Assisi, above the Forum. Further up is the outline of the Roman amphitheater that was once an entertainment spot here.
The temple was built in the first century BC It was abandoned in the 4th century after Constantine officialized Christianity then restored in the 6th century by Benedictine monks. Rooms for the monks were place in the upper part of the building while the main temple area served as a church dedicated to San Donato. In the 1200s it was used as city offices before being converted back into a church in honor of the Virgin Mary and called Santa Maria sopra (over) Minerva to also call attention to the building's ancient roots. It was given a Baroque redo in the 1600s.
The original six Corinthian columns still outline the portico on the facade of the narrow building wedged in among the other structures in the main piazza of Assisi. Walk inside and go up by the altar where you can see the original Roman floors, along with drains in the floor where the pagan blood sacrifices took place. Traces of the original walls can be seen behind the statues. This ancient temple that is still being used is an amazing testimony of time in one small space.
Been there? Done that? Share your experience and tips!
Haven't visited yet? Have questions about Temple of Minerva? Ask them here!
Address in Assisi:
Piazza del Comune.