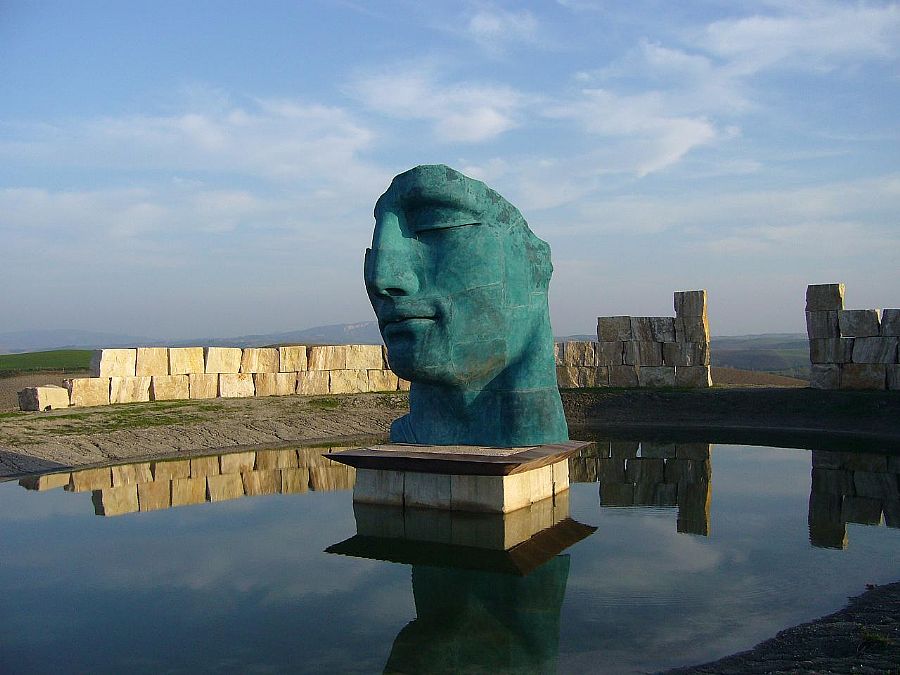 If you want an evening like no other, then plan ahead and find a ticket to the Teatro del Silenzio, the stage that comes alive one night a year for internationally beloved tenor, Andrea Bocelli.
The Teatro del Silenzio is, in fact, the work of Bocelli himself, who comes from the town of Lajatico, where the amphitheater is located. He has always loved these hills and decided to create a very special open-air theater that brings together nature, art and music in a divine way.
The amphitheater is set alone in the hills of the rolling countryside, where the surrounding landscape becomes the backdrop. Sculptural art is created each year by local and international artists, changing for each edition of the musical event. The stage is set up just for the show, then taken down immediately after, returning the landscape and the little pond to nature. The stage is outlined with a half-wall made of blocks of travertine. All told, it is a spectacular setting for a magnificent show.
Bocelli had the amphitheater built, with the theme of silence: these silent hills he loves reverberate with the heavenly sounds of music, then fall silent again, like an annual lyrical Brigadoon. Inaugurated in 2006, it can accommodate 10,000 spectators in that one night, who are encouraged to come and spend the day, enjoy a picnic, walk the paths and soak in the beauty and flavors of the Tuscan countryside. Bocelli himself is the highlight for the one dazzling evening, but he sometimes gives the stage to one of his acclaimed musical friends, thus offering one or two other evenings a year of song in the Teatro del Silenzio.
If you want to attend, you'll need to book your tickets quickly when they go on sale, as they sell out fast! Tickets can also be purchased for the day prior to the concert, to hear and see the rehearsal. While in Lajatico, you can visit the newly opened Officine Bocelli, with a museum dedicated to the star, an art gallery, and restaurants serving regional dishes from locally-grown products. It will also feature a 500-seat auditorium and a school for opera and performing arts. And if that's not enough Bocelli for you, arrange to visit the family winery, operated by the maestro's brother.
Book tickets online here for Bocelli's Teatro del Silenzio. Then book your holiday lodgings with us: our villas at/near Lajatico can be found at this page.
"Io la vedo questa terra, la sento premere sotto i miei piedi.
E' la mia terra. E' una terra che ama il silenzio, come lo amo io.
E se rompo questo silenzio con la mia voce lo faccio per rendere omaggio a questi luoghi e alla mia gente.
La musica penetra la terra, la percorre e vola lontanissima.
E' un messaggio d'amore."
I see this land, I feel it give beneath my feet.
It is my land. It is a land that loves the silence, as I love it.
And if this silence is broken by my voice I do it to pay homage to these places and to my people.
The music penetrates the land, it passes over it and flies far away,
It is a message of love.
--Andrea Bocelli
Been there? Done that? Share your experience and tips!
Haven't visited yet? Have questions about Teatro del Silenzio? Ask them here!
Address in Lajatico:
Via dell'Uccelliera.