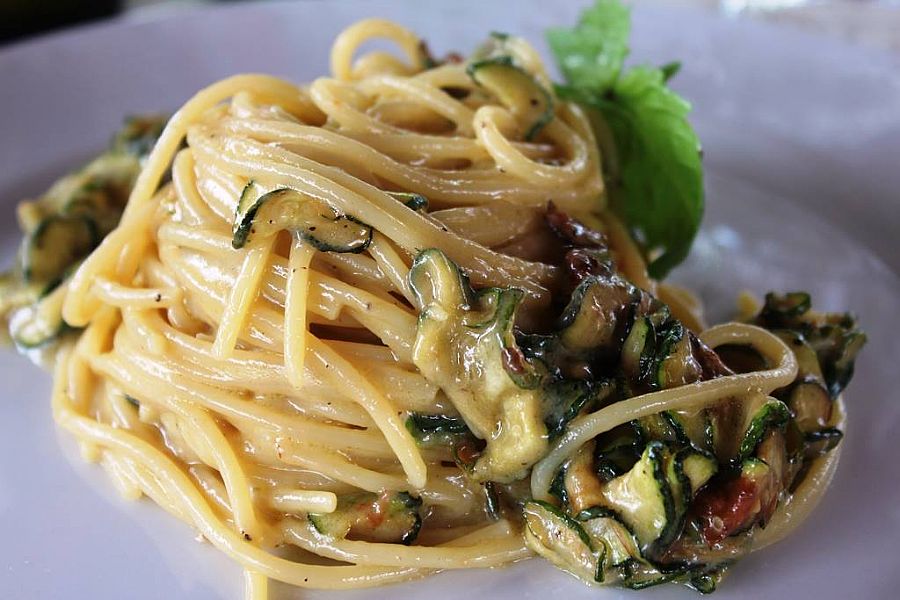 A dish that has come to define the Sorrentine peninsula, in particular the area around Nerano. Using the abundant zucchine that come out in summer, the dish is said to have been invented at Ristorante Maria Grazia in the fishing village of Marina del Cantone. It's now very popular around the area, a light summer plate of pasta that tastes like sunshine!
A few zucchine, a clove or two of garlic, a sprig of basil, provolone cheese (in particular the area's Provolone di Monaco), and spaghetti are all you need. Some cooks utilize the zucchine blossoms as well as fruit.
Slice the zucchini into thin rounds. Fry them quickly in olive oil and place them on absorbent paper. Add the garlic cloves to the oil and saute a minute to flavor the oil, then take them out. Put the zucchini back into the pan. Put the pasta water on to boil.
Add a ladle of pasta cooking water, salt, pepper and basil (torn into pieces). Simmer a minute. Blender half of it to give a smoother creamy texture to the dish, add it back to the pan and heat through. Remove from heat. Grate in about 1/3 cup of the provolone (fine grate) and stir to blend well.
Drain the spaghetti and add to the pan, stirring to coat the strands. Serve. Dust with grated parmigiano or pecorino cheese.
Secret: some cooks grate a bit of lemon zest into the sauce, for a extra "oomph" of flavor and sunshine! :)
Been there? Done that? Share your experience and tips!
Haven't visited yet? Have questions about Spaghetti alla Nerano? Ask them here!