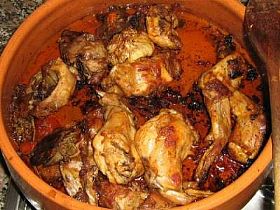 You would think that an island in the Mediterranean would have as its typical dish something seafood. While Ischia offers plenty of fish, the recipe they revere and that is named for the island is Coniglio all'Ischitana (or Ischia-style Rabbit). Apparently there was an abundance of the creatures on the green isle and so this dish was created as a means of cooking the tasty meat. It's quite simple to make. Traditionally it was baked in a clay pot but today, just as often, it's made in a regular pot on the stovetop. The sauce is normally used on the pasta as the primo piatto; then the meat served as a second course.
Rabbit Ischia Style
One rabbit, cut in pieces
White wine
Extra virgin olive oil
3-4 cloves of garlic
Cherry tomatoes
Parsley and basil leaves
Sprig of thyme
Red chile pepper flakes
Salt and pepper
Bathe the rabbit pieces in white wine, then drain.
Heat the olive oil in a heavy bottom skillet or saucepan. Add the garlic and saute a minute or two until lightly golden. Add the rabbit pieces; sprinkle with salt, and brown. Turn and brown them on the other side.
Once the rabbit is nicely golden-brown, add the cherry tomatoes, minced parsley,basil, thyme, chile flakes and salt and pepper. Saute a few minutes until the tomatoes start to melt down, then add about 2/3 cup of the white wine. Cover and let cook until the meat is done, adding a bit of wine as necessary to keep it from drying out and to obtain a nice sauce for the pasta.
Once the meat is cooked, remove it from the pan to a plate and keep warm. Use the sauce on spaghetti or bucatini that has been cooked al dente.
If you prefer to cook it in a clay pot, once everything has been added to the pot, transfer it to a terra cotta cooking pan and put it in the oven for about an hour.
Been there? Done that? Share your experience and tips!
Haven't visited yet? Have questions about Rabbit - Ischia Style? Ask them here!