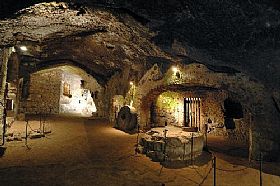 Orvieto is a beautiful city perched on top of a bluff, but while the streets, palaces and piazzas of the town are admirable, there is a whole world lying below them that most people don't even know about!.
The tufa rock was pliable enough that the Etruscans began scooping out cisterns and wells about six centuries before Christ, and there was rather constant digging down there for about two centuries afterwards. Today you'll see a network of chambers, passageways and grottoes that were formed from the easily excavated stone. Some of the most fascinating are the tunnels and cisterns that formed an intricate subterranean water system. The famous Well of San Patrizio (open for tours separately from this tour) was perhaps the most ornate and architecturally interesting of the wells, but there are many of them, as they provided water for the city for centuries.
The chambers in the underground were used for a variety of purposes - wine storage (called cantinas), pottery kilns, animal stalls, and there are large stone mill stones attesting to the olive presses that were here, too. In essence, it was Orvieto's grand communal basement! The noble residences all had secret tunnels and storage down here (some of them still used), and the caves were also utilized as shelters, most recently during WWII when citizens fled here as a bomb shelter and to escape raids.
This is a fascinating way to see Orvieto! The tour lasts about one hour and is easily accessible, with your guide narrating the history of the underground as you walk through it. Tours depart Piazza del Duomo at 11:00 AM, 12:15 PM, 4:00 PM and 5:15 PM, and are offered in English, German, Spanish, French and Russian (in addition to Italian, of course).
See Orvieto Underground Website for more information.
Been there? Done that? Share your experience and tips!
Haven't visited yet? Have questions about Orvieto Underground? Ask them here!