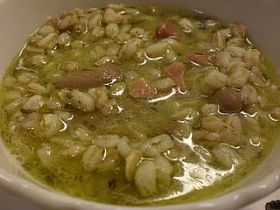 Einkorn is the oldest kind of wheat known to mankind. We know it was already grown around 7000 BC in Egypt, Palestine and Syria. In the Garfagnana area of Tuscany (north-west, in the province of Lucca), einkorn has been seeded the moment the first inhabitants moved in, and ever since.
The Garfagnana einkorn has been awarded the status of "IGP" by the European Union (Geographically Protected Denomination -- you can't call any other kind of einkorn "Garfagnana einkorn") because in the thousands of years that passed since the seed was originally planted it has undergone a natural process of modification and adaptation to the quality of the soil and to the climate and is now significantly different from other kinds of Einkorn available elsewhere.
The recipe we present makes the Garfagnana Einkorn justice: be sure to try it in your vacation rental using fresh local ingredients!
Ingredients
300 gr of Garfagnana einkorn
750 gr of potatoes
300 gr of white beans
3 leaves of Swiss chard
1 slice of lard
onion, carrot, celery, salt
Chop up celery, carrot and onion and saute them in a casserole or Dutch oven with a spoon of olive oil.
When the onion is golden, add the slice of lard and continue cooking till it's browned.
Pour the einkorn, chopped potatoes, the beans previously soaked, the Swiss chard and brown all together.
Put some water and salt, and continue simmering over a very low flame for about 45 minutes, stirring frequently.
Serve drizzling a few drops of olive oil over it.
Been there? Done that? Share your experience and tips!
Haven't visited yet? Have questions about Garfagnana Einkorn Soup ? Ask them here!