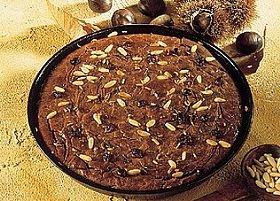 The chestnut tart is truly a poor man's dish originating in the Apennines region, where chestnuts were a basic food group for the local peasants. After a long period, from the second postwar and due to the increasing general affluence, while it was completely forgotten, the ancient recipe has been recently brought to light and it is now protagonist of many events and local food festivals.
According to a precious book by Ortensio Landi, dated back to 1553, a certain Pilade from Lucca invented this lovely, simple, but very tasty delicatessen.
Ingredients
300 gr chestnut flour
4 tablespoons sugar
1 glass of milk
1 glass of water
2 tablespoons olive oil
50 gr raisins
50 gr pine nuts
50 gr walnut kernels
40 gr butter
Salt
Preparation
Soak the raisins into some warm water. Sift flour with sugar and a pinch of salt and pour into a large bowl. Add poco a poco milk, water and a tablespoon of olive oil, always stirring. Eventually use a whisk to prevent lumps, until you have a smooth and fluid mixture.
Drain and squeeze raisins, chop walnuts. Then add raisins along with walnuts and pine nuts to the mixture. Butter and flour a medium-large round baking pan and pour the mixture. Grease the top with remaining olive oil using a pastry brush, and some knobs of butter.
Pre-heat oven to 200 degrees C for 50/60 minutes until dried.
Been there? Done that? Share your experience and tips!
Haven't visited yet? Have questions about Castagnaccio? Ask them here!