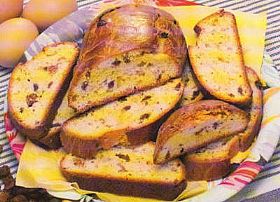 The traditional Buccellato got the name from the Latin 'buccella' (bit): the ancient Romans called buccellatum a round bread, formed by a crown of rolls, known indeed as buccellae. Even the modern Buccellato, in ancient times used to have a ring shape: the locals in Lucca, after attending the Mass, carried it, like a sort of forearm bracelet, as Sunday dessert. Nowadays you can find it even straight shaped, easy to take away.
Buccellato is a simple dessert, born as bread ennobling. Dark brown and bright crust, due to the a generous layer of sugar and egg, the original buccellato shows a cut on top to better rise. The paste inside is soft and sweet, rich in raisins and anise.
This delicious cake does not have a universally acknowledged recipe, but every single bakery and patisserie preserves jealously its own tricks and secrets to make it perfect! Anyway here we have the basis to make a good Buccellato.
Ingredients
500 gr flour
150 gr sugar
50 gr butter
20 gr brewer's yeast
2 eggs
1 glass of milk
50 gr raisins
2 teaspoons aniseeds
pinch of salt
Preparation
Mound flour on a smooth work surface and make a well in the center. A little at a time, pour milk and yeast melted in tepid water into the well. Use fingertips to draw in flour closest to water. Work in increasingly . larger circles, adding water and drawing in flour to form a medium-soft dough. Incorporate raisins (previously soaked into a little bit of liqueur) and aniseeds. Put dough on a floured board, cover with a towel, and let rest for about 60 minutes.
Once risen, break off small pieces of dough and roll into ropes, form a ring and pinch edges together and let them rise 1 hour more. Brush the tops with a sugar-egg mixture. Pre-heat oven to 180 degrees C and bake for 60 minuted.
Buccellato is perfect with a good glass of wine or sliced and covered with cream and strawberries, or ricotta cheese and rum.
Curioosity: Buccellato is traditionally made in Lucca, so that any bakery located in the historical centre sells its own type, but you will be able to taste Buccellato par excellence in "Forno Taddeucci", historical bakery in Piazza San Michele.
Been there? Done that? Share your experience and tips!
Haven't visited yet? Have questions about Buccellato? Ask them here!