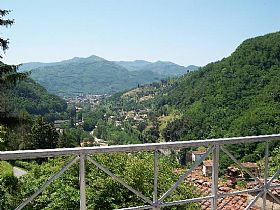 Bagni di Lucca has been a famous spa town since the Roman era. The natural hot springs that flow up from the ground drew weary soldiers and Roman dignitaries who wanted to cure aching muscles or other ailments, or simply relax. It has long been a haven for those who enjoy soaking in the hot, mineral-rich waters.
In the middle ages it became more in fashion - so much so that the Countess Matilda ordered new roads and access routes to be built in the 1200s. While it continued to be well-visited, it was during the French occupation in the 1800s that its popularity peaked. A casino and dance hall were built and other social activities added to the town's allure. The spa structures still in use today date from that period. Bagni di Lucca has attracted popes, presidents, royals and ordinary folk for centuries, as much for the lovely setting in the forested hills above the beautiful city of Lucca, as for the curative effects of the springs.
A visit to the spa today is a great way to relax. Located (appropriately) in the area known as Bagni Caldi (hot waters), you'll find the historic structures where you can enjoy the natural hot springs in a myriad of ways - immerse, bath, shower or inhale them. The best part is the cave section: two chambers in the rocks of the Corsena hills have two different spring sources of different temperatures. Here you can enjoy the Grotta Grande or the Grotta Paolina, named for Napoleon's sister, who was a frequent visitor here. The combination of hot springs and natural cave environment create a steam bath that enhances the effects of relaxation and softens the skin.
At the Bagni di Lucca spa you can soak in the pools of mineral water, drink water from certain springs (as prescribed by the staff or particular ailments), or just unwind with a massage or mud treatment.
Been there? Done that? Share your experience and tips!
Haven't visited yet? Have questions about Bagni di Lucca Spa? Ask them here!