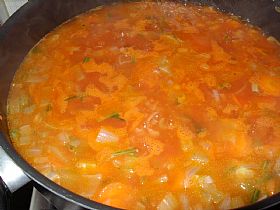 Born in the Tuscan Maremma, 'acqua cotta' is a simple traditional dish invented by local farmers who made virtue of necessity and ate the genuine products harvested from the earth. You will easily find 'acqua cotta' as part of the rich menus in both local trattorias and high-quality restaurants, because of its great nutritional properties and incredible testiness.
The ancient Maremma charcoal burners in winter were terribly poor, so that they lived in tree stump huts built around their fires where it never missed a large pot with boiling water. Any kind of food got in exchange for charcoal was cooked into that pot, and it usually was stale bread, garlic and onions, but some lucky times even tomatoes, celery and one or two eggs. These modest origins have inspired the new refined version of acquacotta, that provides endless variants, the most tasty certainly are dry mushrooms and spicy roasted sausage. To properly eat this soup you must be tired and starving :-)
Ingredients
Olive oil
3 big onions
6 celery stalks and some leaves
450 gr tomatoes
300 gr sweet red pepperoni
salt and pepper to taste
8 slices of stale bread
4 eggs
lots of grated Parmesan or Pecorino cheese
Preparation
Brown in olive oil 3 big onions previously minced with celery. Peel tomatoes and add them to the onion-celery mixture, then mix with pepperoni and season with salt and pepper. Let it cook fer about 20 minutes.
Then pour the mixture into 1 litre of boiling water and make it boil for 30 minutes. In the mean time toast the bread and place the sliced into an earthenware pot. When the 30 minutes are up, pour the soup onto the slices of bread. Break the eggs an mix all together, sprinkling lots of Parmesan cheese.
Serve it hot afterwards and buon appetito!
Preparation
Ingredients
Been there? Done that? Share your experience and tips!
Haven't visited yet? Have questions about Acqua Cotta? Ask them here!