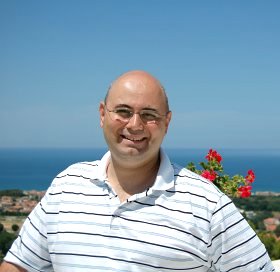 A few words from Luca...
Hello! My name is Luca and I guess that if we were a large corporation you could call me the "CEO" of Summer In Italy.
Instead we are proud to be a small business, focused on the happiness of our customers, so just call me Luca. ;-)
In 1995 my mom was teaching at her school in Salerno, Italy, when a colleague of hers asked whether we would be willing to rent our summer house in the Cilento National Park to her sister Sandra and her brother-in-law from Germany. After a brief consultation within the family we gladly agreed, and that year our German guests spent a few weeks in our villa in Perdifumo.
Much to our surprise, in 1996 we received a phone call from Sandra, asking whether we would agree to rent our villa again, this time for a longer period. She had talked about Cilento to some friends and they wanted to spend their summer there.
The year after that we had to ask friends and relatives if they wished to rent their own summer villas, as we could not accommodate all the people who were calling to ask for a nice house near the seaside. And so we started managing their properties...
For five years we based our activity exclusively on word-of-mouth, satisfying more and more guests every year. Also, year after year new friends kept asking us to manage their villas. In response to these increased demands, we have setup this web site in 2001.
At SummerInItaly.com we are proud to present our selection of beautiful villas and apartments in some of the most charming vacation spots in Italy: the Amalfi Coast, Capri, Sorrento, the Cilento National Park, Tuscany, Umbria, Lake Como...
I would like to invite you to browse our properties and visit this magical land where we live. I'm sure you will remember this trip for the rest of your life!

P.S.
Should you need any kind of advice in choosing your accommodation or planning your trip please let me know. I'd love to help you! You can also call me at +39 089 842 6126 (also +41 91 220 0567) or, if you are calling from the USA/Canada toll-free at 1 800 509 8194, or from the UK toll-free at 0 800 047 0248.